Do you need RV insurance?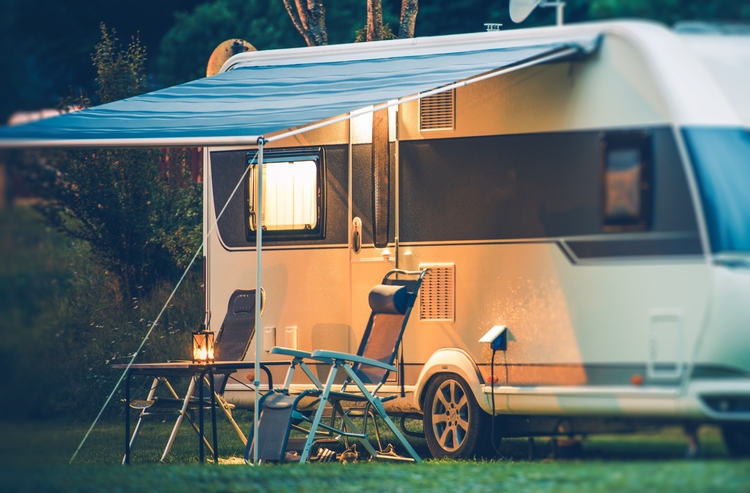 If you've got a vacation-mobile, here's what Guide Insurance Agency wants you to know.
Recreational vehicles, or RVs, can be the ultimate vacation on wheels. Whether you've got a tricked-out, luxury Class A motorhome or a retro campervan, an RV lets you take the comforts of home with you when you travel, whether you prefer to drive it to glitzy festivals or remote campgrounds (or both!).
But if you plan to take your RV on the road, you may need to purchase special RV insurance to cover you for any damage or injuries you cause and to protect your valuable investment. Here's what you need to know about insuring an RV.
Is RV insurance required?
What does RV insurance cover?
How do I get RV insurance
Is RV insurance required?
The type of insurance you need for your RV depends on the RV itself, specifically whether it has its own motor, or whether you have to hook it up to a car or truck to move it.
Coverage for an RV you drive
If your RV has its own motor, you'll probably need insurance for it. Most states in the U.S. require drivers to at least have liability insurance, which covers damage or injuries you cause with your vehicle. If you live in a state that requires car insurance, and you have an RV that you drive rather than tow, that requirement applies to your RV as well.
Coverage for a towable RV
If your RV is a towable trailer rather than a motorhome, meaning you hook it up to your car or truck, then the liability coverage from your regular auto policy will extend to the trailer, covering damage or injury the attached trailer may cause, provided you tell your insurance provider and have your trailer listed on your declarations page.
But other types of coverage, like comprehensive and collision coverage, might not extend to an RV that's being towed, so you may still want to look into RV insurance, or specific travel-trailer insurance, to protect your towable RV, especially in case of an accident that totals both your car and your towable RV. And if you bought your RV with a loan, your lienholder may require you to have full coverage, even if you have a towable RV.
What does RV insurance cover?
RV insurance from most major carriers will include some coverage options that sound familiar to anyone with a car, and some options that are more tailored to the needs of RV drivers.
Essential coverage options
Liability coverage, which covers you for damage or injuries you cause with your RV.
Uninsured and underinsured motorist, which covers you if you're in an accident caused by a driver without insurance, or whose insurance doesn't cover the full extent of the damage they caused.
Comprehensive coverage, which covers your RV for damage caused when its not being driven, like damage from fire, vandalism and extreme weather.
Collision coverage, which covers damage from an accident, no matter who was at fault
Additional coverage options for RVs
Pet coverage, which pays for veterinary expenses if your cat or dog is injured in a collision.
Custom equipment protection, which protects custom modifications that are permanently attached to your RV, like a custom awning, audio and visual equipment that wasn't factory-installed, even custom flooring.
Personal effects replacement cost coverage, which protects the furniture and personal items you bring with you in your RV.
Vacation liability, which gives you a certain amount of liability coverage for injury or damage that happens while you're using your RV as a vacation home.
Emergency expense coverage, which reimburses you for emergency expenses like hotels and transportation if you have a covered loss of your RV.
What about when I'm not using my RV?
If you have an RV but don't use it year-round, you might want to look for RV insurance that has a storage option. Some insurance providers will allow you to save money by "turning off" some the coverage you don't need while you're not driving, while maintaining the coverage that protects your RV, and the things inside it, from damage it can suffer while it's not being driven.
What if my RV is my permanent home?
If you live in your RV full-time, you'll want to look into what's usually called "full-timer's RV insurance." This type of coverage is more robust, and can include liability for your RV and the surrounding area, personal belongings coverage and coverage for medical expenses if someone in injured inside or near your RV.
Ready to start?
Get cheap car insurance quotes from the top auto insurance companies and get covered today.
How do I get RV insurance
Most major car insurance carriers also offer RV insurance. A Guide Insurance expert can help you find RV coverage that fits your needs and your budget. If you're looking for ways to make your RV insurance more affordable, you should look into possible discounts. Many carriers offer discounts for bundling RV insurance with your auto, home or condo insurance, and some offer discounts if you're the first owner of your RV or for safe driving.
Like auto insurance, RV policies can usually go into effect the same day you purchase them, but you may get a discount for buying ahead of time.
.